" He is the shadow you see in the night. He creeps into your bed to get warm hugs! " --Slimeapedia
The Dark Slime is found in the Darklands and is surprisingly peaceful. Ranching requires a corral to be
in a dark place or have a solar shield.
Slimepedia Entry
Favorite: Night Berry
Slimeology
Dark Slime is hard to find, and harder to capture. But much more common than Gold Slimes so you can easily find them in groups. Since these Slimes can be ranched its suggested a rancher always ranches them and gives their Plorts to all non-largo Slimes
Rancher Risks
Dark Slimes will turn all nearby largos feral (often found in areas designated with a skull sign) when its displeased and hungry, this carries out into the ranch, so its suggested to feed it regularly. It also requires darkness when being rancher. Or it will not produce plorts.
Plortonomics
Dark Plorts have be used to create synthetic black holes. These black holes commonl being used for garbage disposal. Recently, military companies have increased spending on Dark Plorts, with reasons for doing so including "Efficient disposal of used/broken equipment".
Trivia
Naturally aggressive Slimes are quicker to become angry when near a hungry dark slime
Dark Slimes can become Aggressive when nearby a nearby dark slime is hungry.
The more Dark Slimes hungry, the more damage done by aggressive enemies (each hungry dark slime adds 20 to the health lost)
Gallery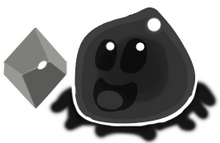 Community content is available under
CC-BY-SA
unless otherwise noted.